Jan 06,2020.
Party Host, Uncategorized
The Best Party Snacks and Appetiser Ideas
[ Disclaimer: If you came here thinking this is a blog post full of snacks to perve on, you're on the wrong page… you need to be looking here. For the rest of you genuinely needing the lowdown on party snack ideas, carry on. ]
We're the type of people who have eagle eyesight when it comes to food. You know the type… no sooner have their ears pricked up at the slightest mouth crunching, whose noses twitched at the faintest waft of basil, than their eyes have darted to a plate of bruschetta. 
Come to think of it… you're probably one too. We've even developed a quiz for you to figure out if you're the type:  
You're at a party and you spot a party host wandering the crowds with one arm cocked up and intermittently stopping at each archipelago of cliques amongst the sea of party people, with a smile drawn across their face. A smile that could be quasi-fake (as they're hiding the weight of what they carry) but they're that experienced it looks oh so convincingly genuine. The party host utters a few words to the posse they've stopped at, who receive those beaming words with pure joy, glance down and their eyes light up. You know it in your bones, without even really seeing what the host is carrying, that they're offering those people a delicious party appetiser.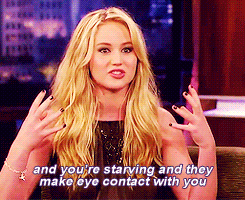 Then next minute, you either:
Make a beeline for the host; or,

Wave the host down like an absolute maniac whose life depends on it. 
Did you answer 1? If yes, you're the type.
Did you answer 2? If yes, you're the type. 
Didn't answer? Don't kid yourself, you're the type. 
It's no doubt you're the type, because it happens to everyone at every party. Because eating is not cheating. Because we're secretly ravenous when we arrive at a good party. Because a party without food is a recipe for hell. 
But what's worse than a party without cold, hot, finger food or plate food, and without McDonald's in UberEats delivering distance? A party with food that's not even worth the calories. A party where you finally get to see what the party hor d'oeuvres being carried around are and they turn out to be slices of cabana sitting atop Tasty cheese on Jatz crackers. Whilst these can be a guilty pleasure for some (FYI, not guilty over here), it's a truly underwhelming choice of appetiser for the majority of guests at an event. 
If you're hosting an event, it all comes down to treating people the way you like to be treated… with mouth-watering party snacks. 
So let's elevate the party snack game people! Let's deliver the best party appetisers around that you almost need additional waiters or party hosts as crowd management. Because when those hawk-eyes and aroma-sensitive noses detect food, it's game on. 
Here are the top snacks for parties to match your best cocktails and bring your guests to the party snack intersection of Appetising Avenue and Binge-worthy Crescent.
They need no introduction. Just make sure you forget the servo sausage rolls. We're talking gourmet territory sausos. 
Keeping on a roll with the rolls, are you even at a party if there aren't spring rolls being served? We think not. Definitely the most iconic Chinese appetiser in the 21st Century, make sure they're extra crunchy. 
Bless those Chinese! The richer cousin of Spring Rolls, Peking Duck Pancakes are just that little more delectable (although a little less universally loved due to vegetarians or vegans). Nonetheless this Chinese classic goes down faster than a ducks feet paddling to stay afloat. 
Cheeseboard
Cheeseboards never go astray as the ultimate cold appetiser ideas for party… and they're highly "Instagrammable", if that's your thing (which, let's be honest, it is).  Whack out a few wheels of cheese on a cheeseboard, littered with muscatels or grapes, berries, quince paste, pates, nuts, prosciutto and the MVPs of crackers, and you're set to win over anyone. Just keep the vegan cheese in mind too. They say less is more, but in the case of a smorgasboard of cheeses, more is more. There's an art to the cheese board, and it's an over-consumption style of art. 
The French know how to make a delicious fromage and the D'Affinois is the creme de la creme… literally it's where the gooey, indulgence is at. There's no going back. 
Jarlsburg is a smooth sailing cheese across the board for all guests. Mild in taste and safe for anyone that may be secretly cooking a bun in the oven. 
Castello Blue (even available from Aldi… of all places) is like crack. It's also an easy blue for anyone to get addicted to. Careful, or you'll devour it by yourself.   
Bega does a Heritage Reserve Vintage Cheddar which will bring sharp flavours with a crumbly texture – the perfect match.
A baked Camembert. 
Otherwise, just bring in the professionals to make one up for you. If you do the cheeseboard well, be prepared to find half the party hovering around the table it's spread across. 
Perfect for sharing, and tres fancy thanks to the truffle, Truffle Ricotta is a party in itself. So it deserves it's own throne.. not on the Cheeseboard. 
The only issue with Arancini Balls is deciding whether to take them whole… or in halves.
You'll want as much of a mouthful as it is to say "taramasalata".
Just be prepared to for the double dippers getting involved in the this heaven-for-tastebuds mix.
Speaking of being prone to double dipping…
Whilst there have been many takes on the cob loaf, the classic spinach cob loaf is where it's at when it comes to the top party snack ideas. This shit is so scrumptious it can cause fights (true story for this blog writer who has seen an intense verbal showdown erupt when the cob loaf wasn't shared). So take it from us, it's better for everyone if there's at least two.
Lemon & Garlic Sicilian Olives
If we had a Sicilian Nonna, we'd be asking her to marinate this style of olives every damn day. The perfect accompaniment to wine whilst helping you ease up on the indulgence train (we once heard they apparently fill you up and prevent hangry bingeing?). They're legitimately healthy so will counterbalance any of the other party appetisers.  You don't even need to cook these babies… just go to your local deli and "molto bene"!
Inoffensive to all and with the right amount of moreish crunch. Zucchini fritters are friendly to vegos, equally loved by meat eaters, and easy to pop into mouths mess-free.
We also recommend over-catering with your snacks for parties. Firstly, because running out of party snacks is embarrassingly irritating (for everyone's hangry stomachs). Secondly, because you'll reap the hangover snack rewards the following day.
Party snack away friends!